my name is amanda and i purposefully hide candy from myself. yup, that's right, at any given time there are probably two or three different kinds of candy stashed out of sight with the idea that, if i really want it, i'll find it. if i'm eating because i'm bored or anxious i'll grab an apple or hummus or whatever is at the front of my fridge, because i'm actually quite lazy.
i know, this plans seems pretty genius. you don't have to tell me twice. the only problem is that i have perfected my technique so much that i sometimes forget there's even candy there. i found myself in this very situation yesterday, when while cleaning out the pantry i found a target bag full of fun size reese's. cups, pieces, and fastbreaks - the peanut-buttery trifecta!
faced with this dilemma i immediately went to my saved recipes and found something that would give me an excuse to use up all these treats and force them on my co-workers tomorrow. the solution? dark chocolate cupcakes, stuffed with reese's cups, topped with peanut butter frosting.
the stash i found. i cannot believe this was just hanging out in my pantry! i should have been binging on them long ago!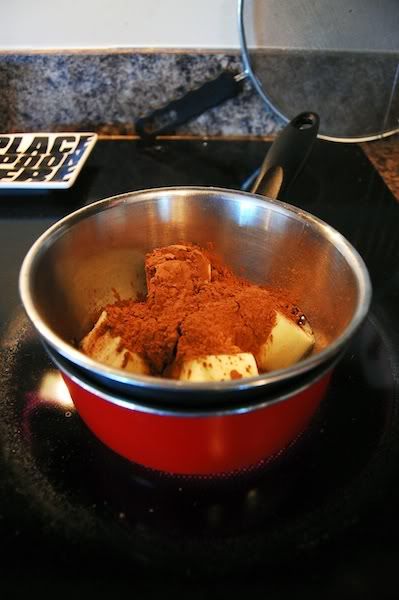 to melt the combination of chocolate, cocoa, and butter, the recipe calls for a double-boiler. i made my own hodge-podge version out of a heatproof bowl over a small saucepan, but you can also do this in the microwave to save time. if you're taking this route though, i would recommend using the defrost setting - it will be more gentle on your chocolate!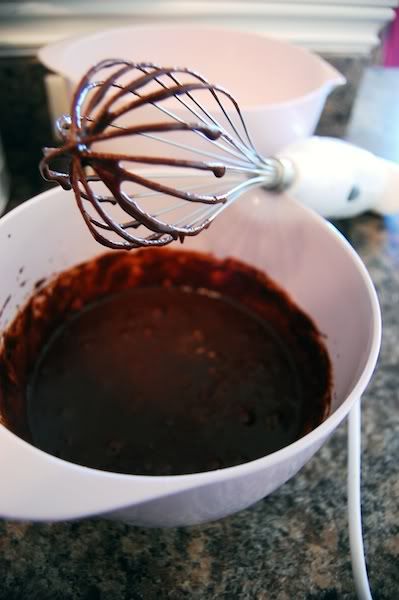 i used the whisk attachment for my immersion blender. i love using this kitchen gadget when i don't feel like breaking out the big stand mixer. note: i am a big gadget nerd.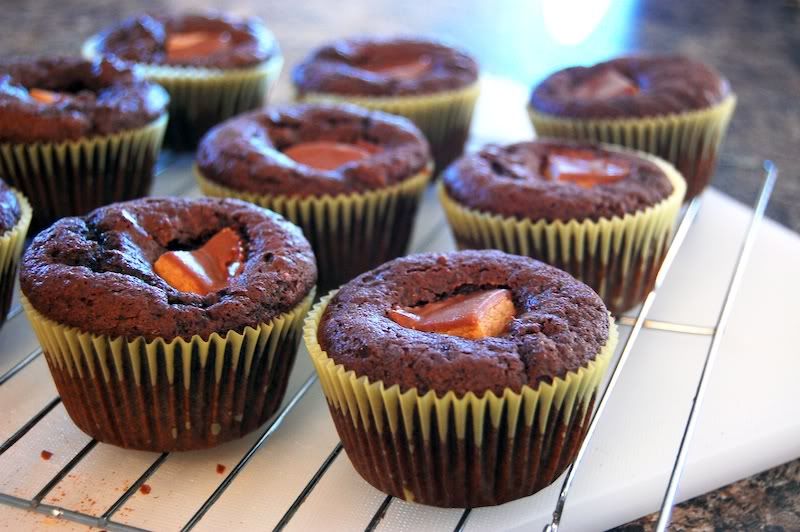 i stuck peanut butter cup quarters into the center of each cupcake while i was rotating the pan mid-bake for a secret surprise! this step is obviously optional, but highly suggested.
i had left over batter - shocking - so i made half a dozen mini-cupcakes and decorated them with reese's pieces for extra adorability. seriously, how cute are they?
dark chocolate cupcakes
yields 15 regular sized cupcakes, or 1 dozen + 6 minis!
adapted from cooks illustrated
preheat over to 350 degrees fahrenheit
8 tablespoons unsalted butter at room temperature, cut into 4 pieces
2 ounces bittersweet chocolate chips
1/2 cup dutch-processed cocoa powder
3/4 cup all-purpose flour
1/2 teaspoon baking soda
3/4 teaspoon baking powder
2 eggs
3/4 cup granulated sugar
1 teaspoon vanilla extract
1/2 teaspoon table salt
1/2 cup sour cream (i used a light version & it was perfect!)
1. place butter, chocolate, and cocoa in a heat-proof bowl. set bowl over saucepan with two inches of simmering water. gently stir butter and chocolate until melted and combined. set aside until mixture is warm. this step can be substituted for microwave.
2. in a small bowl, whisk flour, baking soda, and baking powder together.
3. in a large bowl, whisk eggs together until combined. add sugar, vanilla, and salt until fully incorporated. add cooled chocolate mixture and whisk together. sift one-third of flour mixture over chocolate mixture and whisk until combined. stir in sour cream until combined, and then sift remaining flour mixture over and stir until batter is thick.
4. fill cupcake liners two-thirds full and bake until knife or cake tester in center of cupcake comes out with a few crumbs - about 18 minutes. if adding to batter, place in center of cupcake half-way through baking. if making mini-cupcakes, only bake for 7-8 minutes.
peanut butter frosting
note on frosting: i tend to frost on the conservative side. i think a lot of people go nuts with frosting because it is so delicious, but there is something to be said about too much of a good thing. plus, i don't want the cake portion of the show to be ignored or overpowered! that being said, i had a bunch of extra frosting left over, probably enough to frost two to four more cupcakes. just a heads up!
1 cup confectioners' sugar, sifted
3/4 cup creamy peanut butter
5 tablespoons unsalted butter, at room temperature
¾ teaspoon vanilla extract
¼ teaspoon kosher salt
3-4 tablespoons heavy cream or half & half
1. place butter and sugar in bowl of stand mixer and beat with paddle attachment until combined and creamy.
2. add vanilla extract, salt, and peanut butter, and combine.
3. add heavy cream one tablespoon at a time until frosting reaches desired consistency.
nutritional information:
for cupcakes: calories: 172, fat: 9.14g, cholesterol: 51mg, sodium: 171mg, carbs: 21g, fiber: 1.4g, sugars: 10.89g, protein: 2.72g.
for frosting: calories: 119, fat: 8.62g, cholesterol: 10mg, sodium: 36mg, carbs: 7.85g, fiber: .64g, sugars: 6.5g, protein: 2.8g.
so, the whole cupcake comes out to about 300 calories! mini-versions are 1/3 of that, so only 100!
thanks for reading & happy baking!
amanda