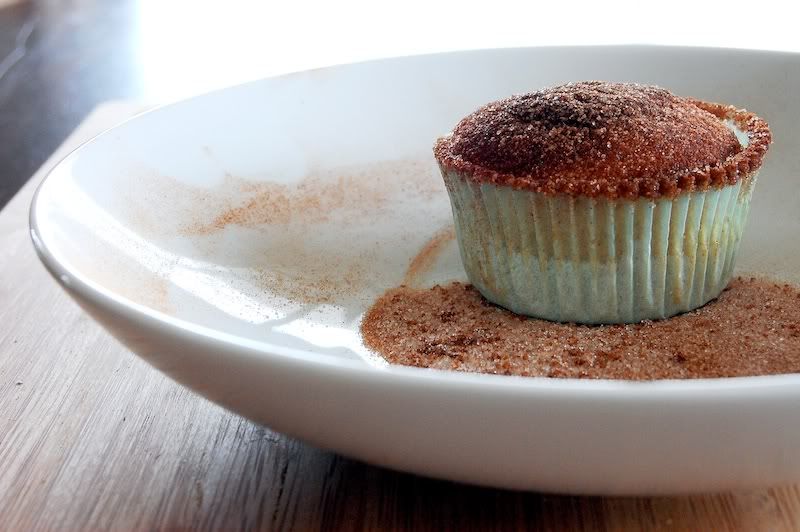 these donut-muffin hybrids (duffins? monuts?) may not be the most beautiful things to come out of my kitchen, but they sure are some of the most delicious. seriously, they're tied with my new favorite leave-in conditioner for "things that have completely rocked my weekend."
if you're not convinced yet, i've narrowed down the top 5 reasons why you should drop what you're doing and make these right now:
1. you don't need any fancy kitchen gadgets to make these, just a few bowls and good whisk. sometimes i dread lugging out the stand mixer and consider mixing ingredients together a form of exercise. well, it kind of is! strength training? anyone?
2. you also don't need a donut pan. don't get me wrong, they are totally cute and very popular but go against my rule of only buying kitchen gadgets that serve more than one purpose
3. they are totally kid-friendly and come together in an hour. none of the pesky waiting around to start enjoying cinnamon-sugary bliss.
4. i cut the calories and fat from the original recipe a tremendous amount by substituting a few ingredients. this means, guiltless donut consumption! (when was the last time THAT happened?)
5. last but not least, they are 100% delicious and perfect at any time of the day. also, who could turn down a DONUT shaped like a MUFFIN?
i know you probably haven't made it to the end of the list without running to your kitchens to throw this together, but i'll continue with the post for when you come back, donut in hand.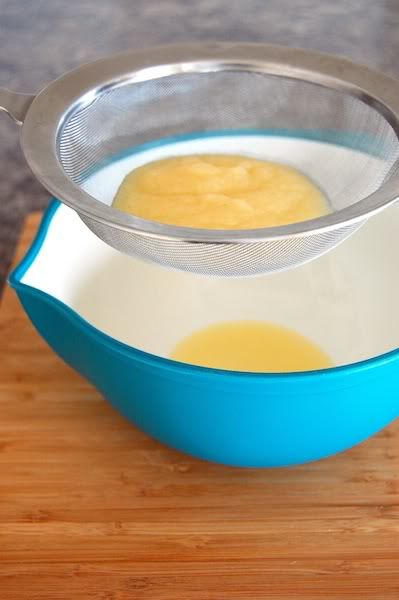 though i don't consider myself a "low fat" or "light" baker, i do have a few tricks up my sleeve on how to cut some of the unnecessary bad-for-you ingredients from baked goods. one great trick is substituting unsweetened applesauce for oils, which i did in my modified version of this recipe.
to use this technique, just put however much applesauce your recipe calls for in a sieve over a bowl and let it sit for 15-20 minutes. gravity will pull the majority of the moisture out of the applesauce, which would otherwise make your final product overly runny. if you don't have a sieve, you can mimic the effect by putting the applesauce between several layers of paper towels. it's a little messier, but it works!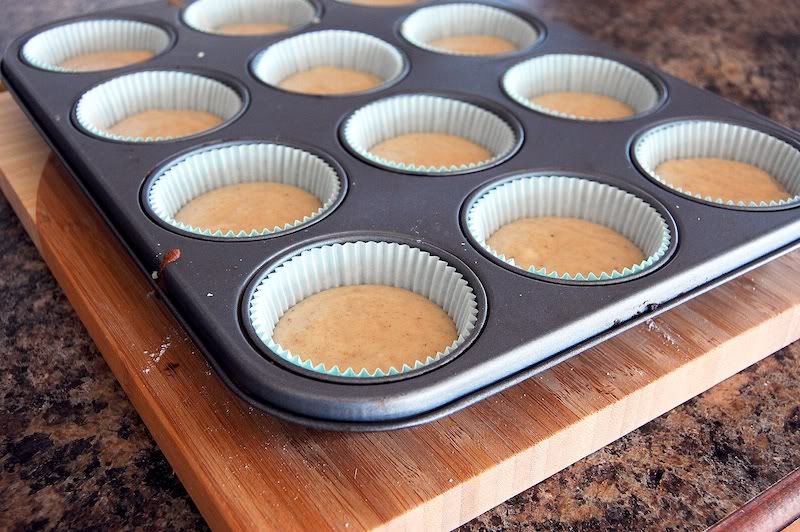 these babies puffed up a lot, so i was glad that i only filled the tins up halfway. i used paper liners for the bigger version of the donuts (i ended up making minis too!) because i'm taking them to work and feel weird handing out unwrapped baked goods, but i think it takes away from their beauty a little. feel free to scrap the liners and just give your muffin tins a good spray before adding the batter.
another way i cut the calories from these was by not submerging the entire donut in butter before rolling it in cinnamon sugar. instead, i just dunked the tops! i don't feel like i lost any of the effect or taste at all, but you can feel free to coat your entire donut if you're feeling crazy.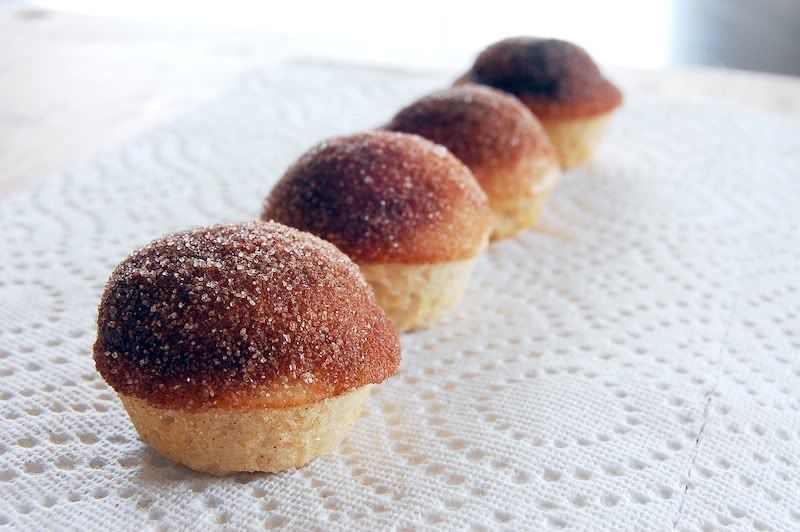 this recipe was so easy to make and would be a quick and easy brunch treat to whip up some lazy morning. they are also super versatile and could be just as easily glazed or stuffed with jelly - my personal favorite. the few substitutions i made didn't detract at all from the flavor or taste, but instead just cut the calories down from 275 to 162 - an enormous difference.
cinnamon sugar donut muffins
adapted from
tasty kitchen
yields 12-13 standard-sized muffins (or 3 dozen mini-muffins)
ingredients:
1 3/4 cups all purpose flour
1 1/2 teaspoon baking powder
1/2 teaspoon salt
1/2 teaspoon nutmeg
1/2 teaspoon cinnamon
1/3 cup unsweetened applesauce, strained
1 tablespoon vegetable oil
3/4 cups granulated sugar
1 large egg
3/4 skim milk
for the topping:
2 tablespoons melted butter
1/4 cup granulated sugar
2 teaspoons cinnamon
1. strain applesauce via sieve or paper towels for 15-20 minutes.
2. combine flour, baking powder, salt, nutmeg, and cinnamon in a bowl and set aside.
3. in a large bowl, whisk together applesauce, oil, sugar, egg, and milk until combined.
4. slowly add dry ingredients to wet ingredients and whisk together until no large lumps remain.
5. scoop into muffin tins and bake at 350 degrees for 15-17 minutes. (mini versions only need to bake for 7-8!). do not over-bake!
6. while your donuts are baking, melt butter in a heatproof bowl in the microwave. in a separate dish, mix together sugar & cinnamon until combined.
7. take donuts out of the oven and let rest for 1-2 minutes. while still hot, shake out of muffin tins. dip tops into butter, then sugar mixture, then let dry on wire rack for 5-10 minutes.
nutritional information:
calories: 162, fat: 3.25g, cholesterol: 21mg, sodium: 159mg, carbs: 30g, fiber: 1g, sugar: 16g, protein: 2.75g.
before i go, i'd like to say a quick "thank you" to all the new readers that have been visiting my blog recently. welcome! if you have any questions, comments, suggestions, or requests, please feel free to get in touch via comment or at girlwhobakes@gmail.com. also, if you would like to know more about why i started this blog, or why i have all the nutritional information listed for my recipes, please check out my first entry right over here.
as always, thanks for reading & happy baking!
amanda