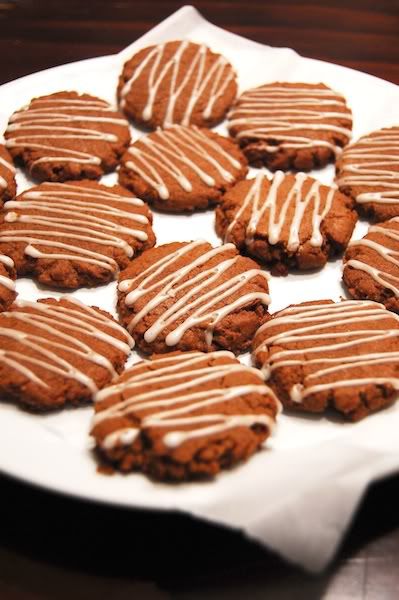 okay guys, i have a confession to make. it's not something i'm proud of, but admitting you have a problem is the first step.
i am not an inclusive baker.
in a world ripe with food allergies and ethical eating i still throw as much butter, flour, eggs and nuts into a recipe as i possibly can. it's not right, but it is delicious.
part of my foray into vegan baking has been as an attempt to make my baked goods available to more people. other bonuses include being forced out of my ingredient comfort zone and being able to make stuff when i use up all the butter & eggs and am too lazy to buy more.
i'm really still getting the hang of things - my last few attempts have been quite embarrassing - so any tips & tricks you can throw my way would be amazing.
equal parts molasses, oil, and sugar. i used brown instead of white because..well, it's how i roll. perk: these cookies come together in one glorious bowl. speaking of bowls, i got a new set as an early valentine's day present and i am in baking heaven.
let's veer slightly off topic for a minute. so, like i said, i'm new at this whole vegan-baking thing. to get these cookies the way i wanted them i had to adjust several parts of the recipe. the cookie on the top left-hand side was made according to instructions, but turned out way too mounded and dense for me.
the next couple i smooshed a little with a glass and they were closer to what i was looking for. the bottom cookie, which i think turned out the best, is the last and final version and the recipe i have posted at the bottom of this entry.
so, i know that there is a spoon in this shot and that would lead you to believe it was used. honestly? i barely touched it. by the end of the mix-a-thon i was using my hands to get everything combined. it was awesome.
these cookies are dark and spicy and right up my alley, but i couldn't resist adding a little sweetness and acidity through a few squiggles - the technical term - of vegan lemon royal icing. i had to figure this one out, since royal icing is traditionally made with eggs, but i managed!
note: there was no way that for a one-bowl cookie recipe i was going to break out the piping tips. no way, no how. i just grabbed a ziploc bag, poured the icing in, sealed it up, cut a tip hole in the bottom corner and got to icing. painless!
these cookies are actually very delicious, and not even "for vegan cookies". they are great alone, but the icing dresses them up a little bit. alternatively, i think they would be great rolled in some raw sugar. or, not to get crazy, lemon-infused raw sugar!
onto the recipe!
vegan ginger cookies with lemon royal icing
yields 2 dozen
preheat oven to 350 degrees f
for cookies:
1/2 cup vegetable oil
1/2 cup brown sugar
1/2 cup molasses
2-3 tablespoons hot water
1 3/4 cups flour
2 teaspoons ginger
2 teaspoons cinnamon
1 teaspoon baking soda
1/3 teaspoon salt
1. in a medium-sized bowl combine oil, sugar, molasses & hot water.
2. stir in flour, ginger, cinnamon, baking soda & salt. combine with spoon/hands.
3. if batter is too dry/sandy add a teaspoon of water a time until it reaches a workable consistency.
4. bake on a parchment-lined baking sheet for 8-9 minutes. cookies might appear under-done, but will harden as they cool.
for lemon icing:
1 cup confectioner's sugar
juice from half a medium lemon
2 teaspoons light corn syrup
1. in a small bowl mix sugar and lemon juice until smooth.
2. add corn syrup and beat until smooth and glossy. if icing is too thin, add more sugar. if it's too thick, add more juice or corn syrup.
3. pour into ziploc bag, seal, and cut small hole in bottom corner. decorate away!
nutritional information:
calories: 120, fat: 4.4g, sodium: 80mg, carbs: 19.22g, sugars: 10g, protein: 1g.
thanks for reading & happy baking!
amanda