i have an awesome boss. part of her awesomeness stems from what a great gift-giver she is. for the holidays i got a gigantic set of sharpies, a three pack of the best-smelling antibacterial gel ever, and
vegan cupcakes take over the world
. oh i know, she rocks.
before receiving said gifts i had spoken at length with her in our tiny office about how i wanted to get into vegan baking, but was apprehensive about it as unknown baking territory. i've been taking baby steps via breads &
cookies
to build my confidence, but this weekend i decided that i was ready for the big leagues - cupcakes! - and armed myself with almond milk, vinegar, and earth balance.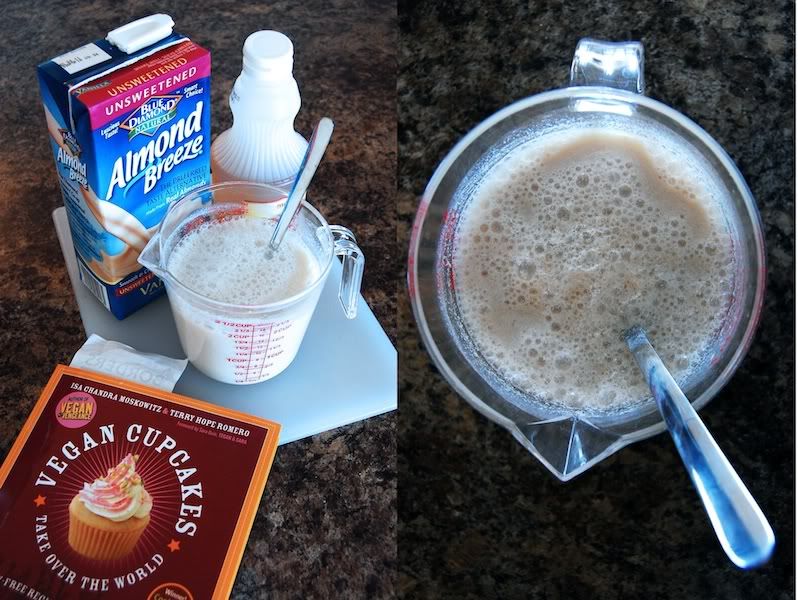 i won't lie to you, i was nervous from the get-go, especially since the word "curdle" was in the first step. but, i took a deep breath and trusted the process and curdled it up.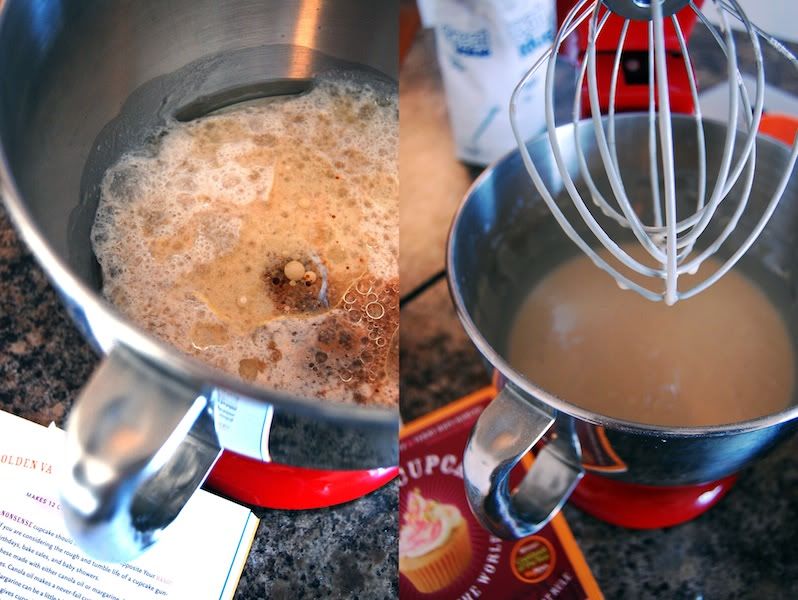 the batter was way more like a science fair project than a cupcake base. it was bubbly and reacting to itself and i'm pretty sure i could have made it explode if i had tossed a mentos in it. i started with my paddle attachment, but that was far too messy. i switched over to a whisk and it was way smoother sailing.
additional anxiety kicked in when i realized that the batter was an unpleasant khaki color instead of the golden-y goodness that i know and love, but through magic or science or oven gnomes that issue was resolved.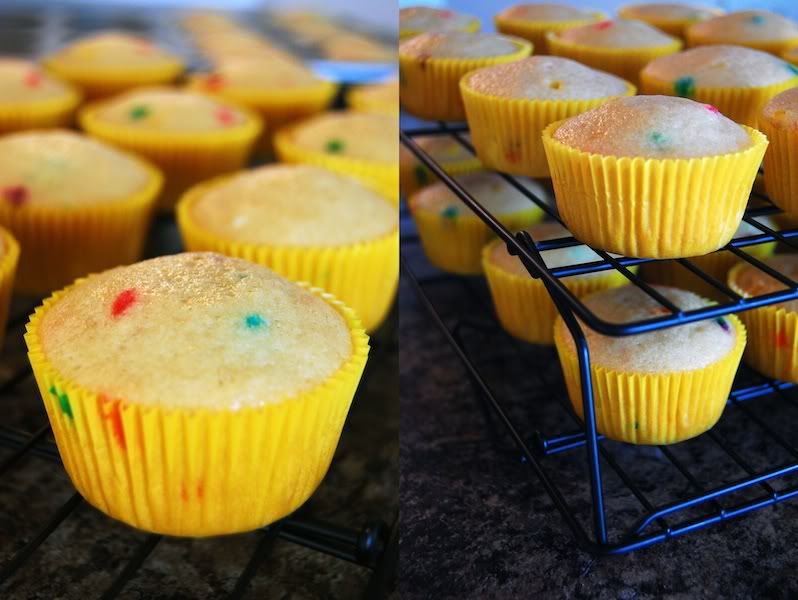 and i got beautiful, springy, perfectly-domed cupcakes! amazing.
by the way, if you bake at all and have limited counter space i highly, highly recommend investing in stackable cooling racks. hell, even if you have a giant kitchen there's no reason to waste space by having racks side-by-side. plus, then you can call each rack a "floor" and pretend that your cupcakes are in a fancy hotel. or not. cause that would be weird. anyway..
while the cupcakes cooled and i prepped the frosting everyone in my house decided it was nap time, including flapjack. he's 18 pounds. seriously. (not pictured: his sister, waffles).
in the end, the frosting is what got me. i'm pretty particular about my frostings and don't really have recipes, per se, but i have a general idea of what i want it to taste like and i adjust as i go. working with shortening and earth balance was a bit of a challenge for me and i think i need to do a little more research into how to achieve the perfect vegan buttercream.
i will say that it piped on pretty nicely and tasted a lot better once i let it set up in the fridge. i'm interested in if it will continue to improve with time, so i guess i'll have to force myself to eat one tomorrow. bummer.
overall, i'm pretty happy with how these came out, especially considering i'm a complete rookie. i would not have guessed they were vegan, which is my goal for animal-free baking, and was surprised at how delicious the batter was after it hung out in the oven for a while.
vegan funfetti cupcakes
adapted from vegan cupcakes take over the world
yields 28
ingredients:
2 cups almond milk (you could use soy, i've just been on an almond kick!)
2 teaspoons apple cider vinegar
2 1/2 cups all-purpose flour
4 tablespoons cornstarch
1 1/2 teaspoon baking powder
1 teaspoon baking soda
1 teaspoon salt
2/3 cup vegetable oil
1 1/2 cups granulated sugar
2 teaspoons vanilla extract
3 teaspoons almond extract
1. whisk milk & vinegar in a measuring cup and set aside so it gets nice & curdle-y
2. preheat oven to 350 degrees fahrenheit & line muffin pan
3. sift together the flour, cornstarch, baking powder, baking soda, and salt
4. with a whisk attachment or by hand, beat together soy milk mixture, oil, sugar, vanilla & almond extracts
5. add dry mixture to wet mixture and mix until no large clumps remain
6. carefully fold in 3-4 tablespoons sprinkles, medium-sized to large work best
7. fill up your lined pans two-thirds of the way (this is where an ice cream scoop comes in handy!) and bake for 18-20 minutes, or until a skewer comes out clean
8. let cool for 5-10 minutes in pan and then transfer to a cooling rack to cool completely
vegan buttercream frosting
(note: this is not a perfected recipe, so make sure to test your icing out as you go and adjust!)
ingredients:
1/3 cup non-hydrogenated shortening
1/3 non-hydrogenated margarine (i used earth balance)
3 cups sifted confectioner's sugar
up to 3 tablespoons almond milk
1 teaspoon vanilla extract
2 teaspoons almond extract
1/8-1/4 teaspoon salt (this sounds weird, i know, but i think it's essential in buttercreams)
1. beat together shortening & margarine until combined and fluffy
2. add sugar 1/2 cup at a time and mix
3. add extracts to taste
4. add salt to taste
5. if you need the icing to be less stiff, add milk a teaspoon at a time until it reaches the right consistency
6. decorate away!
nutritional information:
calories: 219, fat: 9.6g, cholesterol: 1mg, sodium: 162mg, carbs: 31.24g, sugars: 21g, protein: 1g.
as always, thank you for reading & happy baking!
amanda
ps: first of all, thank you for reading this far! secondly, if you end up making anything you've read here or have any suggestions i would love to hear from you! seriously, let's talk!