when i was going to grad school in boston my local coffee shop had these popovers people would freak over. seriously. i studied there with regularity and only saw the actual popovers for sale a handful of times, mostly because people would snatch them up as soon as they came out of the oven. as a learned today, that's the absolute best way to eat them.
i was convinced these pillowy babies would be complicated to make and full of butter and guilt, but they were surprisingly easy and this recipe cuts the fat in half!
i'll confess to you, i think there is a learning curve with popovers and mine didn't pop as much as i'd like, but the taste is all there and hopefully you can benefit from my mistakes! plus, how convincing would it be if every recipe i posted was perfect?
i made mine in muffin tins because i hate buying anything that serves only one purpose, unless it's a really good purpose (i.e. ice cream machine!), so i cut the baking time down by five minutes. if you have a popover pan, feel free to tack on an extra five to your baking time.
these are all the ingredients! dry ingredients and wet ingredients. the only catch is that the eggs and milk should sit out for about thirty minutes before you mix everything together - it helps the popovers "pop"!
the pans are oil and pre-heated in a hot oven before the batter goes in.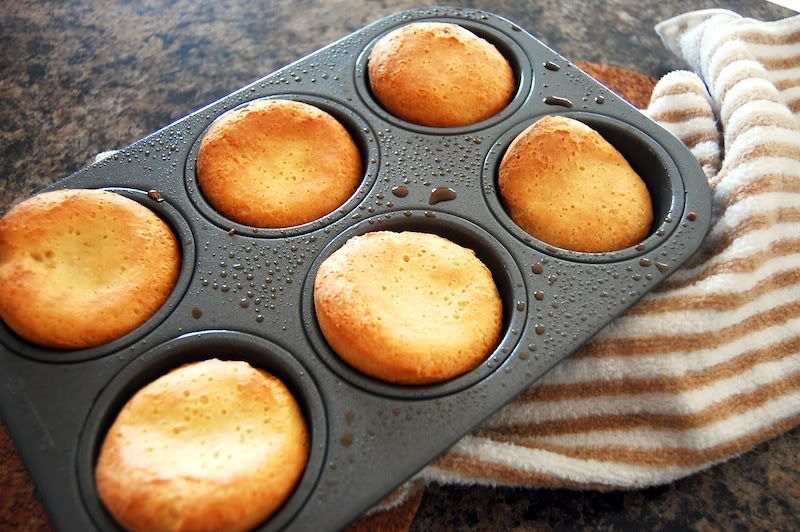 these are just too cute! my edges started popping, but i know they are supposed to get taller. when i make these next, i'm going to bake them at 425°f for the first 10 minutes and then lower it to 375°f degrees for the last 25.
seriously, i might go sneak one of the leftovers right now.
the great thing about this recipe is that you can totally build on it. add herbs, cheese, ice cream, whatever! if you come up with a delicious concoction, let me know!
onto the recipe!
popovers
yields 6
adapted from cooking light
1/2 cup all-purpose flour
1/4 teaspoon salt
1/2 cup low-fat milk
1 large egg
1/2 tablespoon butter, melted
cooking spray
1. combine flour & salt in a small bowl, stirring with a whisk.
2. combine milk & eggs in a medium bowl, stirring with a whisk until well blended. let mixture stand for 30 minutes.
3. while you're waiting for your wet ingredients to come to room temperature, preheat your oven to 425°f and coat a half-dozen muffin tin with cooking spray.
4. after 30 minutes, gradually add flour mixture to egg minutes and combine well with a whisk. stir in melted butter.
5. place pan in the oven for 5 minutes, then divide the batter evenly among prepared and heated pan and bake for 35 minutes - 10 minutes at 425°f and the last 25 minutes at 375°f - or until golden brown and popped!
nutritional information
calories: 90, fat: 3.3g, protein: 3.9g carbs: 12.2g, fiber: 0.4g, cholesterol: 51mg, sodium: 172mg
thanks for reading & happy baking!
amanda