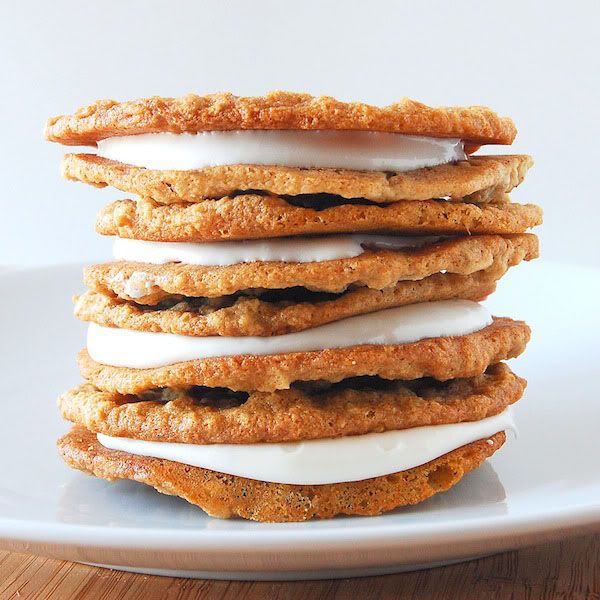 disclaimer: these are not healthy. that being said, they are so addictive that i gave myself a stomach ache before the gooey filling had even been made.
my second admission is that i've never actually had a real-deal little debbie oatmeal creme pie. some people might consider this good parenting and others might consider it child neglect, but my snack of choice as a child was a little thing called a pastelito de guayaba (sweet puff pastry filled with guava, or quince). but, i've decided to give this little debbie a chance considering how many people confused my
zebra cake
with one of deb's concoctions. since the most requested snack was her oatmeal creme pie i decided to whip up a batch!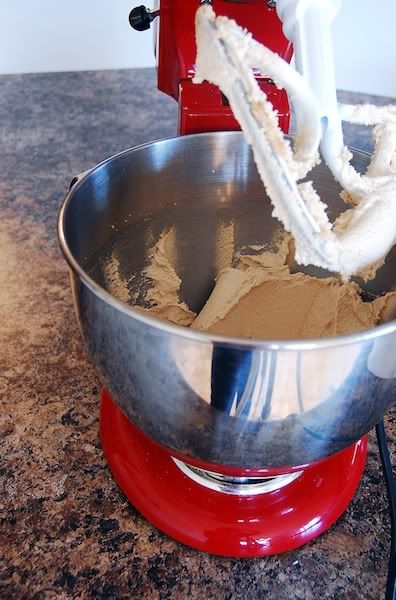 first, like with any good recipe, you start by creaming a ton of butter and sugar. granted, i got five dozen cookies out of this recipe, so feel free to cut the recipe in half.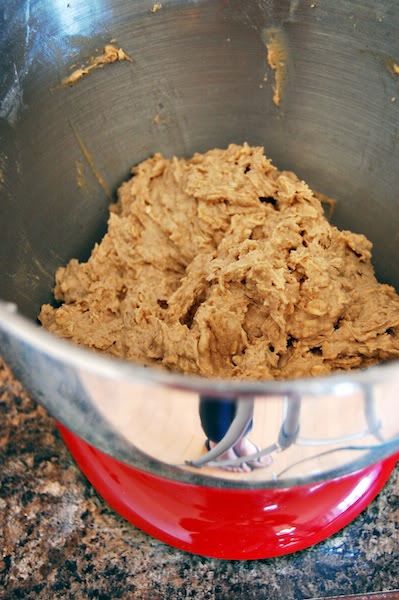 the batter is this gorgeous peanut-buttery color and makes delicious oatmeal cookies on its own. i honestly couldn't keep my fingers out of this batter and am guessing 3-4 cookies worth of dough fell victim to my cravings.
(side note: i didn't realize you could see my rolled jeans & flip flops reflected in the bowl! it was almost 80 degrees in michigan today and i broke out my favorite shoes for the event.)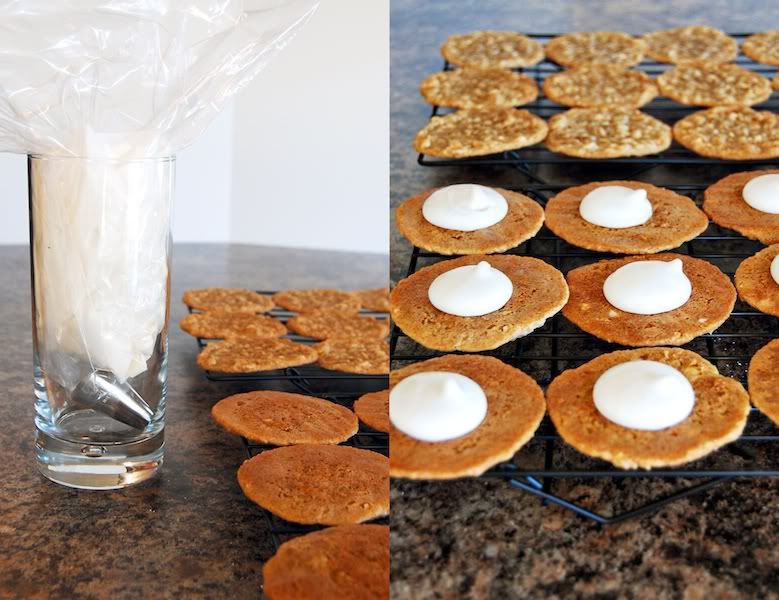 to pipe my delicious filling between my cookies i used a large sized round piping tip, but you could just as easily use a knife and just spread it on. the icing might seem a little unruly as you're making your sandwiches, but don't worry! it does set after about an hour, which then makes it super easy to put in baggies or stack for portability.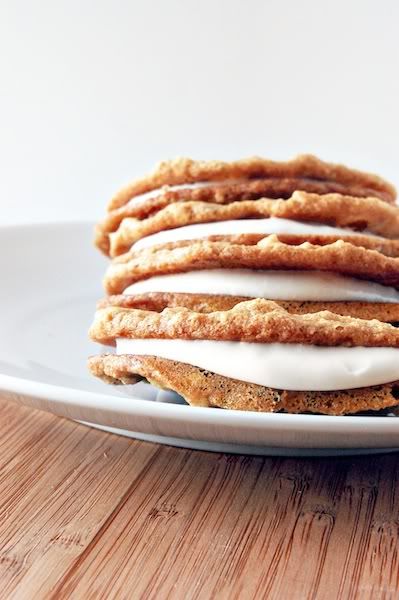 not to brag, but i think i gave debbie a run for her money with these babies. the cookies themselves are hearty, delicious, and soft without falling apart. the addition of the marshmallow-vanilla filling takes it to a whole new level of fantastic. though making these is not a particularly fast process, i think it's totally worth it to relive your childhood and bring on the nostalgia.
homemade oatmeal creme pie
yields 30 sandwiches (plus 8-10 leftover cookies!)
for the cookies:
3/4 cup unsalted butter, softened
2 cups packed light brown sugar
2 eggs
1/2 teaspoon salt
2 cups flour (i used 1 cup all-purpose & 1 cup whole wheat pastry)
1 teaspoon baking powder
1 teaspoon cinnamon
2 cups quick oats
2 teaspoons baking soda
3 tablespoons boiling water
for the filling:
1 stick unsalted butter
1 jar marshmallow fluff
1 teaspoon vanilla
1 1/4 cup confectioner's sugar
1. cream butter and sugar in the bowl of a stand mixer. once light and fluffy, add egg and mix until combined.
2. in a separate bowl, whisk together salt, flour, and baking power. add to creamed mixture. add cinnamon and oats and mix well.
3. in a small dish, add baking soda to boiling water and stir mixture into batter. mix well.
4. chill dough for 1-2 hours in fridge to let cool.
5. preheat oven to 375 degrees and lined cookie sheet with parchment.
6. drop tablespoons of dough onto sheet about two inches apart and bake for 8-9 minutes or until cookies are firm and golden around the edges. let cookies stand on sheet for 5 minutes and then transfer to wire rack.
7. to make filling, whip butter in a stand mixer to soften. add jar of marshmallow and beat until fluffy. add powdered sugar 1/4 cup at a time until combined. add vanilla and combine.
8. spread or pipe filling onto cool cookies and allow to set for 1-2 hours.
nutritional information:
calories: 213, fat: 6.67g, cholesterol: 23mg, sodium: 74mg, carbs: 18g, sugars: 13g, protein: 1.7g.
thanks for reading & happy baking!
amanda