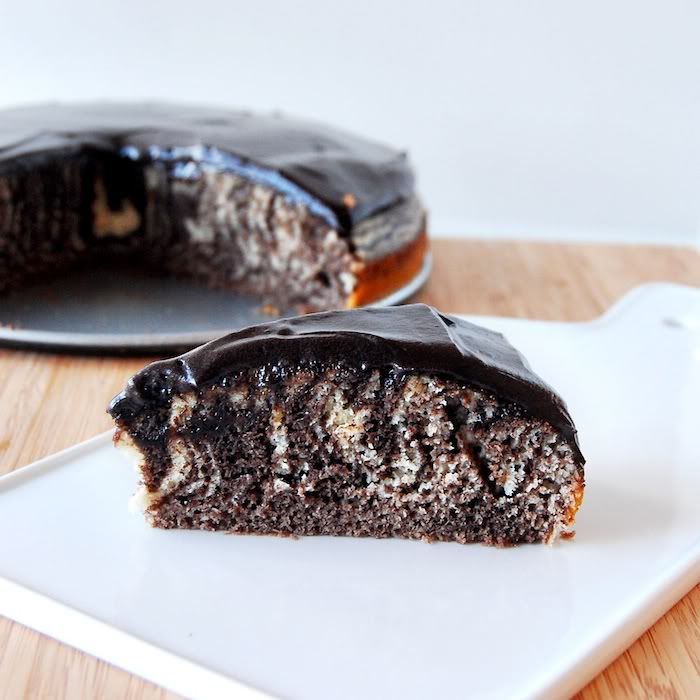 because one of my favorite parts of having this blog is getting to interact with all you out there in internet-land, it shouldn't come as too much of a surprise that when one of my readers emailed me asking for my help in slimming down a zebra cake i jumped at the chance.
this was my first time attempting this recipe and i think there is definitely room for improvement, especially in the stripes, but i will - as always! - share my mistakes with you so that only one of us has to make them.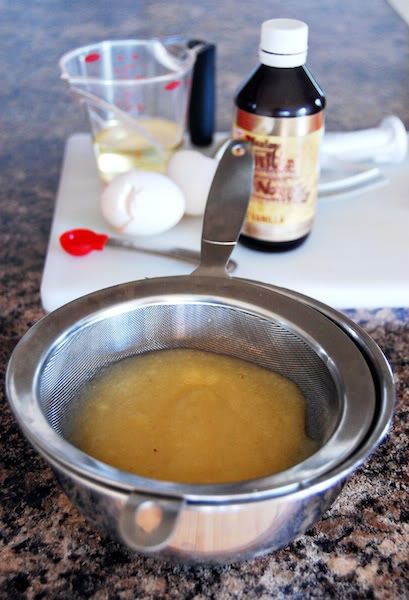 i cut this cake down from over 400 calories a slice to around 250 calories and i've gotta say, i'm pretty proud of myself. i substituted some of the vegetable oil for drained applesauce, which is a great ingredient to swap out for fats, and i made a few adjustments to the eggs and sugar quantities.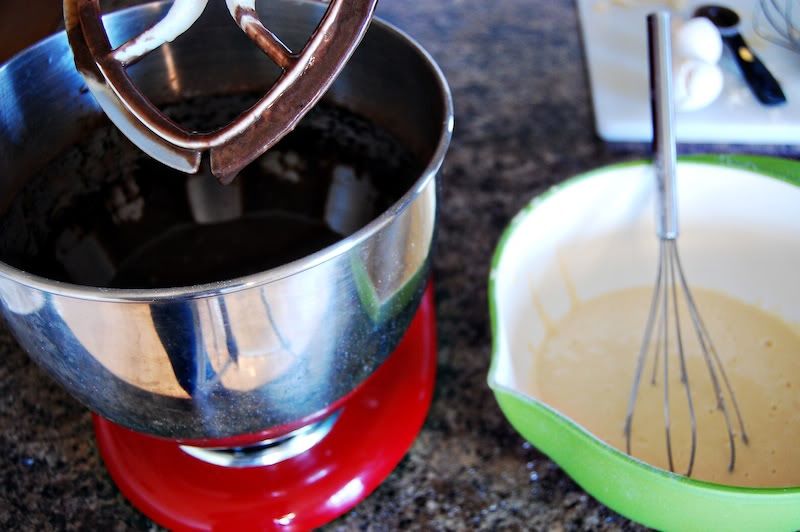 the secret to putting the "zebra" in zebra cake is splitting the batter in half once it's completely mixed, which is way more convenient than making two batters. cocoa powder gets added to one while the other remains plain.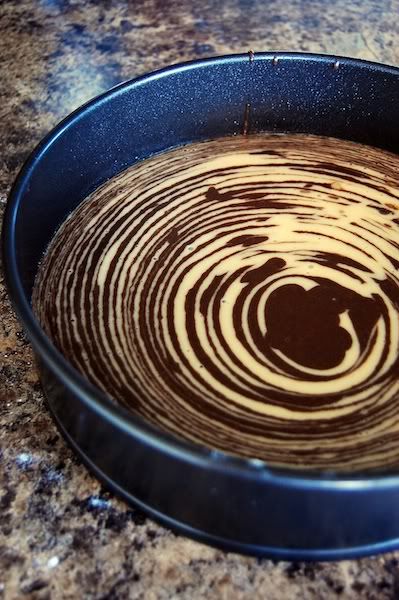 the rings are formed by dropping alternating dollops of chocolate and plain batter on top of each other. i did around two tablespoons per dollop, which i think led to my aesthetic downfall, and will definitely opt for a 1/4 cup size next time. i think it will make it look more like the animal print i so love and less like i'm trying to see how old a tree is.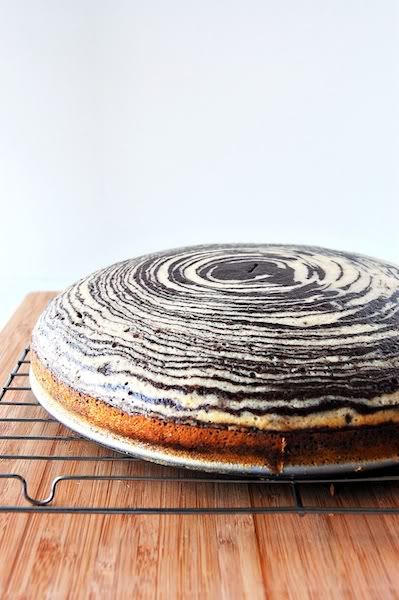 so, my dear readers, you can totally stop here and have a delicious and gorgeous cake. maybe a light dusting of powdered sugar? something simple and elegant?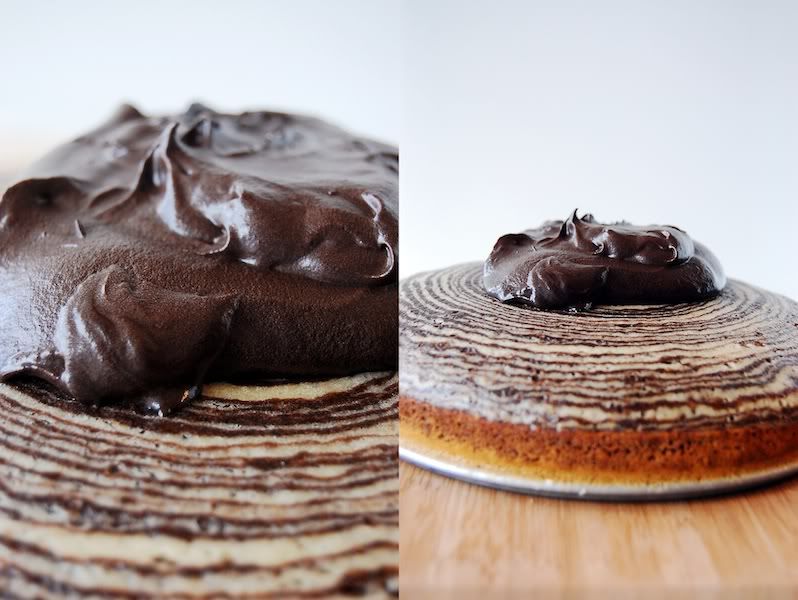 or..you could go a different route. like i did. okay, let me rewind a bit. i was in the middle of basking in the pride of cutting the calories of this cake pretty much in half when i decided that frosting was in order. yup, gooey, decadent, dark chocolate frosting. so far from simple and elegant. i just couldn't help myself.
feel free to take either approach to this cake. you can use the excuse, like i did, that covering the top in frosting makes the cake more mysterious and alluring because you don't have any clue how beautiful the inside is until you cut into it. or you could be logical and enjoy 214 calories of marbled (or, in your case, probably more zebra-y) goodness.
skinny zebra cake
yields 12 slices
for the cake:
2 eggs
2 egg whites
3/4 cup granulated
1/3 cup vegetable oil
2/3 cup drained applesauce
2 cups all-purpose flour
1 tablespoon vanilla
1 tablespoon baking powder
3 tablespoons cocoa (the darker, the better!)
1 cup low fat buttermilk
for the icing:
3 tablespoons butter
1/2 cup powdered sugar
3 tablespoons cocoa
2-3 tablespoons skim milk
1/2 teaspoon vanilla
1. preheat oven to 350 degrees. grease 9" pan with oil or parchment. (i used a springform pan and it worked perfectly!)
2. in the bowl of a stand mixer, combine eggs, egg whites, and sugar until creamy and light in color. add buttermilk, vanilla, oil, and applesauce and beat until blended.
3. in a separate bowl, whisk together flour and baking powder. gradually add the dry ingredients to the wet ingredients and beat until the batter is smooth and fully incorporated.
4. scoop 2 cups of batter into bowl used for dry ingredients and set aside. in mixer, sift cocoa into remaining plain batter and mix.
5. using two 1/4 cup measurers, one for each flavor batter, scoop alternating flavors into the center of the baking pan, one on top of the next. do not wait until the previous circle has spread and do not tilt the pan - the mixture will spread by itself! keep working until no batter is left.
6. bake for 30-40 minutes, or until the a toothpick inserted into the center comes out clean!
7. while cake is cooling place room temperature butter into the bowl of a stand mixer and beat until smooth and soft. add 1/4 cup of powdered sugar and combine with butter. add cocoa and 1 tablespoon of milk and combine. add remaining powdered sugar and mix until creamy. add vanilla and combine. to adjust consistency of frosting, add milk 1/2 teaspoon at a time.
8. spread frosting evenly over cooled cake and chill in fridge until set.
nutritional information:
calories: 250, fat: 8.8g, cholesterol: 41mg, sodium: 156mg, carbs: 37g, fiber: 2g, sugars: 20g, protein: 5.13g.