man, i always forget what a pain the moving process is. between spending twenty hours in the car last weekend (preliminary apartment hunting) and packing up everything i own (craigslist gets the rest!) i have barely had enough time to sleep, much less blog.
to make up for my lengthly absence i come bearing lava cake. that's right, chocolate-y goodness that's a brownie on the outside and warm pudding on the inside. i don't even like pudding and i've already made this cake twice this week - it's that good.
on top of all that, this is also a recipe for one - perfect for when the mood strikes you, but won't leave you with a baker's dozen on the kitchen counter tempting you.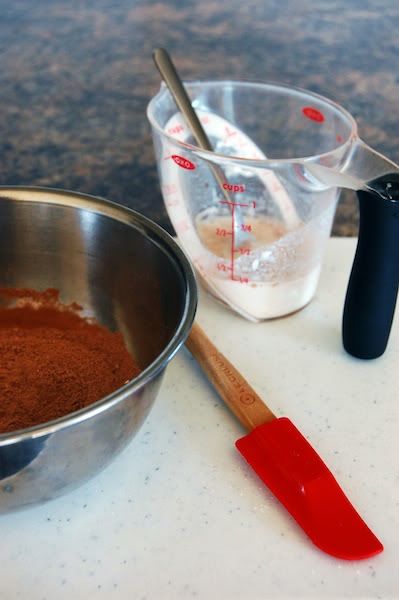 this is a shockingly simple recipe for how elaborate the final product seems to be. you just need one small bowl for dry ingredients and another vessel of some kind for wet.
i baked my cake in a 7 ounce ramekin, which is a fancy word for a small heat proof bowl. for as much as i use the ramekins i have - seriously, ice cream, microwaving anything and everything, sauce-making, snack-holding, etc. - they do not get nearly enough praise in my kitchen. if you don't have a set of these i highly recommend picking up one or fifteen. you can thank me later!
when you take your cake out of the oven you want the sides and top to be fairly set, but definitely not cooked through. i found that to take around 15 minutes in my oven, but in the name of honesty i will say the first time i made this it i left it in far too long (i got a brownie) and the second far too short (pudding soup). not that i minded eating either, but the goal is an even split between the two extremes.
though i know from personal experience how tempting it is to dig right into your lava cake while it's in a piping hot ramekin, it isn't a good idea. seriously, i think i no longer have a fingerprint on my ring finger. what you want to do is grab a larger plate or dish and invert your ramekin onto that. you will look and feel like a total professional, promise.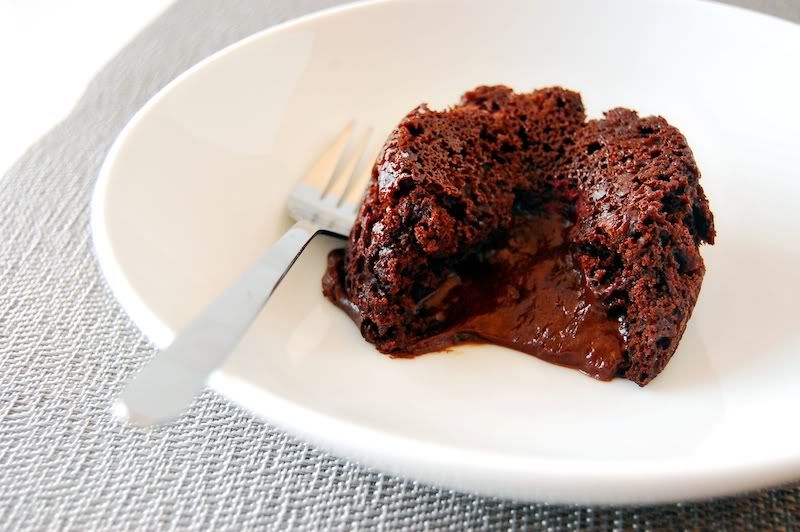 now, i give you permission to sit down with your very own lava cake and enjoy every last bite. and, in case you forgot, the beauty of a cake for one is that no one will be around to judge you as you lick the plate.
guilt free lava cake for one
yields 1 cake
ingredients:
2 1/2 tablespoons all-purpose flour
1 1/2 tablespoons granulated sugar
1 heaping tablespoon dutch-processed cocoa
1/8 teaspoon baking soda
pinch of salt
3 tablespoons skim milk
1 tablespoon non-fat yogurt
1/4 teaspoon vanilla
directions:
1. preheat oven to 350 degrees.
2. whisk together flour, sugar, cocoa, baking soda, and salt in a small bowl.
3. mix milk, yogurt, and vanilla in separate bowl.
4. pour wet ingredients into bowl of dry ingredients and stir until combined.
5. grease a 7 ounce ramekin with cooking spray. pour batter into ramekin and bake for 12-16 minutes or until edges and top of cake are set.
6. let cake cool for 1 minute then invert onto larger plate or bowl. enjoy!
nutritional information:
calories: 171, fat: 1.24g, sodium: 185mg, carbs: 39g, fiber: 4.5g, sugars: 19g, protein: 5.72g.
thanks for reading & happy baking!
amanda