this recipe is amaaazing. yup, it deserved two extra a's. part of why it's so good is that it took me about ten minutes to make and i used a grand total of one bowl. considering how much i detest washing dishes - i always end up looking like i was sitting in the splash section at a dolphin show - this is a very good thing.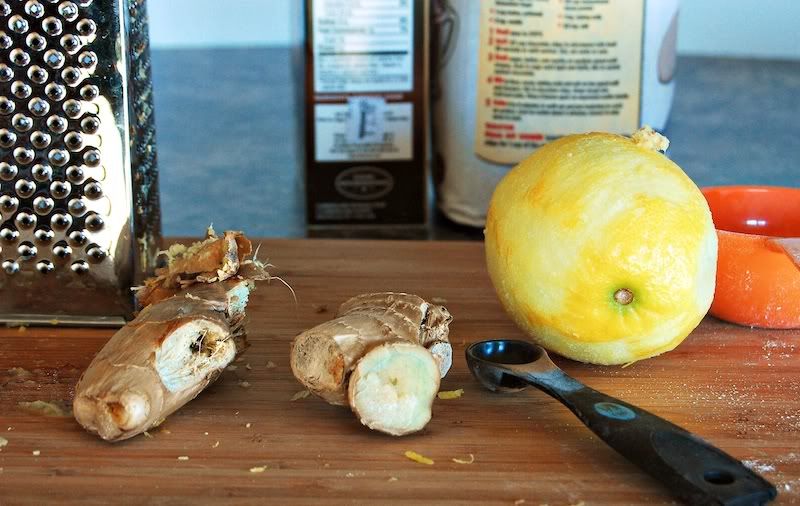 i had some leftover ginger from my sore throat days a few weeks ago when i would drink what seemed like gallons of ginger lemon tea every day, so i decided to pump up this lemon cake with a little heat and spice from the freshly grated ginger. if you don't have any on hand feel free to use pre-grated stuff or omit it all together. no worries!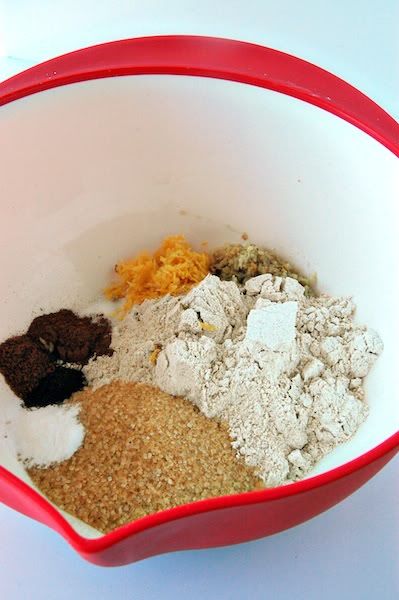 here is the super complicated first step of the recipe. yup, you have to put all the dry ingredients in a one bowl and give them a good mix. that's it!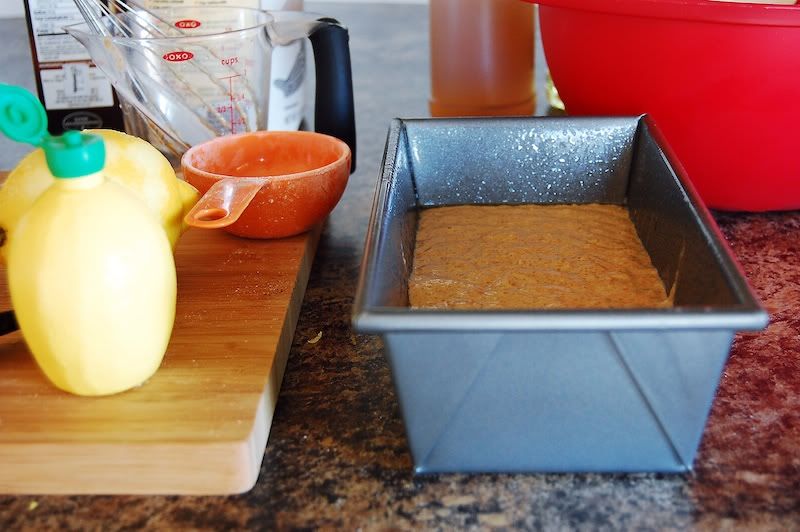 (this is just proof at how messy my workstation can get. seriously, stuff everywhere!)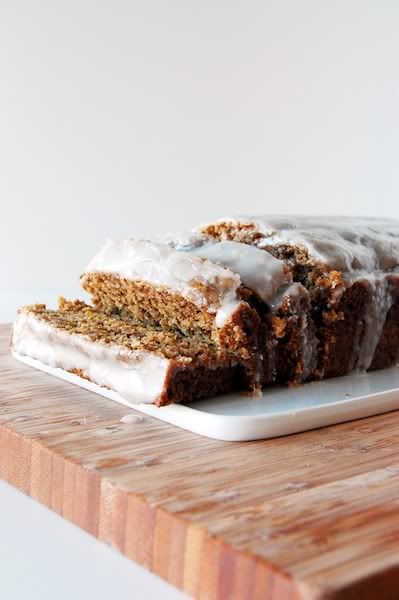 i decided to balance the spicy and sour cake with a lemon-honey glazed that brought everything together. you can feel free to skip this step, but you know i always vote for a glaze if i have the option.
woah! oh geez, i almost forgot to tell you the most magical and unbelievable part of this recipe. get ready. are you ready? okay, just make sure you're sitting down. this entire cake has only one tablespoon of fat. that's right. ONE. did i blow your mind or what? this means that each serving has only one gram of fat. totally insane.
low-fat vegan ginger lemon quick bread
adapted from
budget bytes
yields 12 slices
for the cake:
1 1/2 cups whole wheat flour
1/2 cup raw sugar
1 tsp baking soda
1 tsp cinnamon
1/2 tsp nutmeg
1/2 tsp cloves
1/2 tsp salt
1-2 tbsp freshly grated ginger
2 medium lemons, zested and juiced
1 tbsp vegetable oil
1 tsp apple cider vinegar
1 cup water
3/4 cup powdered sugar
1. preheat your oven to 350 degrees.
2. in a large bowl whisk together flour, sugar, baking soda, cinnamon, nutmeg, salt, cloves, lemon zest and ginger.
3. make two wells in the dry ingredients and pour the vinegar in one and the oil in the other. pour water over everything and stir until everything is just combined.
4. pour batter into a greased loaf pan. bake for 30-35 minutes or until a toothpick inserted in the center comes out clean.
5. while cake is cooling combine powdered sugar and lemon juice until it reaches your desired consistency. wait until the cake is completely cooled to pour glaze or risk it melting off!
nutritional information:
calories: 112, fat: 1.3g, cholesterol: 0mg, sodium: 204mg, carbs: 24g, fiber: 2.11g, sugars: 12g, protein: 2.16g.
thanks for reading & happy baking!
amanda