now, i'm not here to tell you that i'm a top chef. or an iron chef. i'm not even a rachael ray. but, i will say that these brownies are outstanding and maybe, just maybe, worthy of one of those titles. except the rachael ray one, she's down right annoying.
the secret to my success* lies in using the cocoa with the highest percentage of cacao you can find. essentially, the darkest chocolate powder. this makes the brownies almost black in appearance and extremely rich in taste.
* note: i define success by how much batter gets eaten before anything actually gets baked. in this case, it was a lot.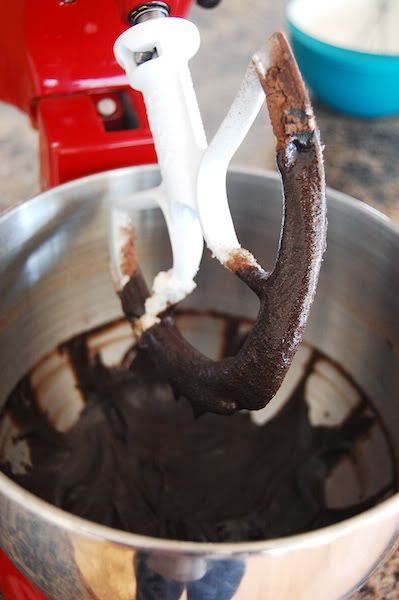 this recipe goes pretty smoothly until about halfway through where you will be told to randomly mix milk & cocoa into the batter. i'll be honest, the first time i made this i was caught a little off guard, with the general rule-of-baking-thumb being to mix the dry and wet ingredients separately until the very last step. but, i trusted the process and soldiered on. what i got was a semi-curdled chocolatey pudding that did not seem anywhere near brownie consistency.
i'm here to tell you, don't do i what i did (which was panic). take a deep breath and know that this little hurdle is simply there to weed out those who couldn't handle the intense brownies to come. you can make it through this - i believe in you!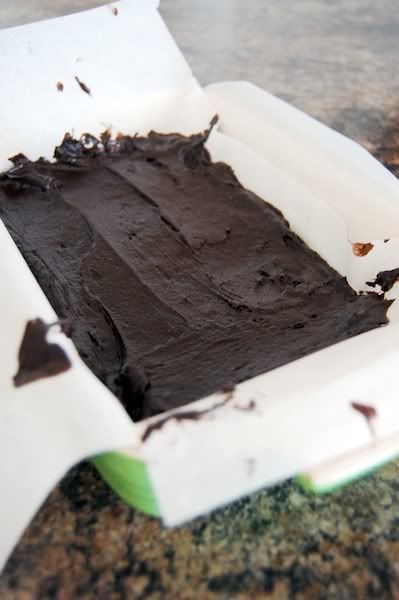 i generally line my pans with parchment or aluminum foil when i make brownies because one too many times i've been left with a brownie bottom with so many craters it looks like the face of the moon. by using a lining (versus spray), i can pull out my whole loaf without the fear of stickage.
another helpful hint when it comes to brownies is to let them cool for as long as you can stand it. i let mine rest in the pan for almost a full hour before i slid them out and let them continue their journey to firm-dom on a wire rack. basically, you want them to be completely room temperature when you slice them up or risk there being a lot of crumbs and broken pieces.
i got a very oreo-vibe from this recipe, in both taste and appearance, so i decided to top them off with white chocolate drizzles. i actually wanted to title this recipe "faux-reo brownies", but i didn't know if that was just too cheesy. if i get enough support from the internet, though, i just might change it.
this recipe is also fantastic because of its versatility. while making it i was thinking about how delicious mint chocolate chips would be mixed in the dark chocolate, or walnuts, or a vanilla buttercream topping, or caramel, or sea salt, or potato chips! listen, sweet & salty is a thing.
if you come up with a creative take on this base let me know!
deep-dark brownies with white chocolate drizzle (or, faux-reo brownies!)
yields 2 dozen squares
ingredients:
1/2 cup butter, softened
1 1/2 cups sugar
1 teaspoon vanilla extract
2 large egg whites
1 large egg
2/3 cup unsweetened 100% cacao cocoa
1/2 cup skim milk
1 1/2 cups all-purpose flour
1/2 teaspoon baking powder
1/4 teaspoon salt
1. preheat oven to 350 degrees and line 13x9 inch pan with parchment or coat with cooking spray.
2. cream butter and sugar together until fluffy. add egg whites and egg, one at a time, beating will afer each addition. add vanilla and combine.
3. add cocoa and milk and beat - this is where it may appear curdled!
4. combine flour, baking powder, and salt in a separate bowl and mix with a whisk.
5. add flour mixture to cocoa mixture 1/2 cup at a time on low speed until just combined. overmixing leads to tough brownies!
6. spoon batter into prepared pan and spread evenly.
7. bake for 30-35 minutes or until set. cool for 1-2 hours.
8. optional: once completely cooled, slice with a serrated knife or pizza cutter into even squares. melt 1/2 cup white chocolate in microwave on low until melted. pour chocolate into a ziploc baggy, cut at tip, and drizzle onto brownies. place in refrigerator to set for 10-15 minutes.
nutritional information:
cals: 142, fat: 5.22g, cholesterol: 19mg, sodium: 74mg, carbs: 22.4g, fiber: 1g, sugars: 14.72g.
as always, thanks for reading & happy baking!
amanda
ps: oh! and check out the newly-created
about me page
and my
recipe index
!