i love target. like, love target. why do i adore this megastore so darn much? because i can go there and get a new pair of jeans, granola, a lock for my suitcase, foam core, and a bottle of wine (my target now has WINE!) all in one trip. and for a girl who considers herself a productivity specialist, this absolutely rules.
to bring this introduction all the way home, i consider my le creuset french oven like a culinary target - it does pretty much everything and helps me get things done super fast. now, when we first got this giant green monster i was nervous about using it because i didn't fully understand its power. now that i do i'm completely crazy for it!
stuffed shells is one of my favorite meals to use this bad boy for because it can go from boiling pasta and browning meat on the stove right into the oven, which basically makes this a one-pan dinner. plus, you can make it in advance, store it in the fridge, and heat it up whenever you're ready for a delicious and super healthy meal.
(i promise i was not paid to say any of that!)
i lightened up the original recipe by using lean ground turkey, light ricotta cheese, and a ton of spinach. i'm actually a five year old trapped in a twenty-something's body and have to hide my vegetables to this very day, but the cheese and the carbs do an excellent job of that.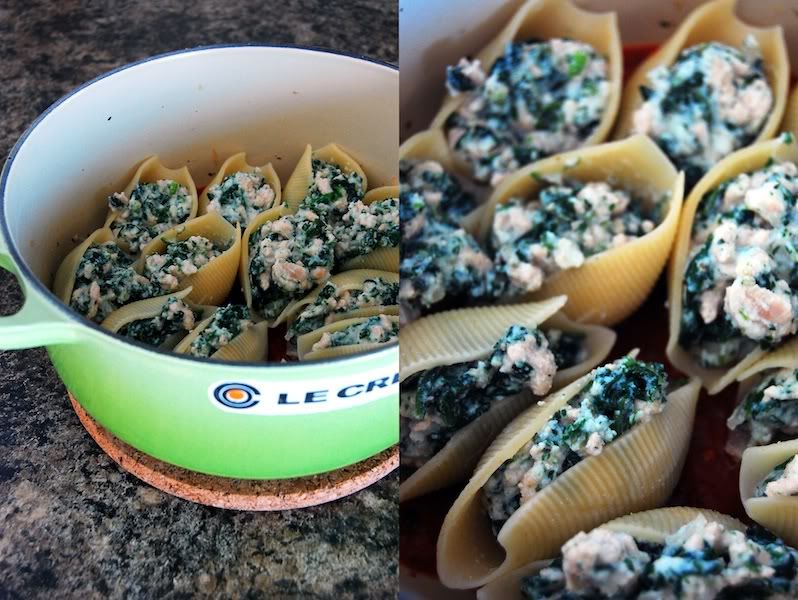 i usually make this meal for just two people, but it would be super simple to double or triple the recipe and make enough for a crowd. i generally make five or six shells per person, which is generally more than enough, but you can adjust the quantity as you see fit!
one of my other sneaky-veggie-tricks is using a pasta sauce that is low in calories but high in vegetables and flavor. next time you're at the grocery store sneak a peak at the back of the sauce jars, the caloric range can be very surprising. checking on these amounts can be one way to cut a pretty significant amount of unnecessary junk out of your meal.
nothing finishes off these shells like freshly grated high-quality cheese and a glass of red wine. dinner is served!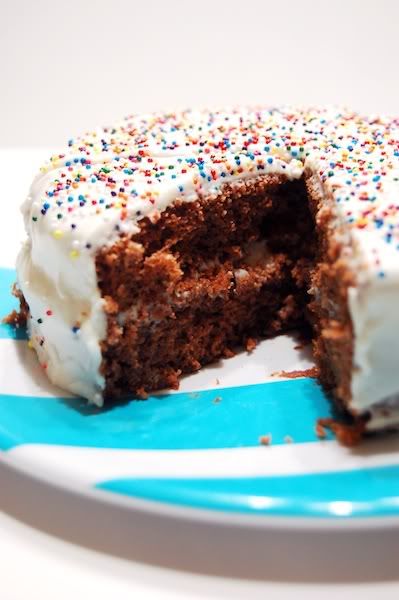 my boyfriend finished a seventy page paper and asked for a little treat, which i thought he totally deserved! i really wanted to use the six inch pan i picked up a few weeks ago, so i made a healthified milk chocolate cake and topped it with a lighter version of my signature buttercream. it's definitely not the most gorgeous cake i've ever made, but the tiny factor is extremely adorable and i wanted to include it.
side note: i'm not sure how often i'm going to be doing savory dishes, this is a sweet-treat blog after all, but because this dish is technically baked i thought it might be a nice change of pace.
turkey & spinach stuffed shells
serves 2
ingredients
12 jumbo pasta shells, cooked and drained
1 cup frozen chopped spinach, defrosted
5 ounces ground turkey
1/3 cup onion, diced
1/2 cup low fat ricotta
1 egg white
1/2-1 garlic clove, minced
1 cup pasta sauce
directions:
1. cook shells and spinach according to the package directions. drain and squeeze spinach of excess moisture. meanwhile, brown ground turkey and onions in a pan over medium-high heat.
2. mix spinach, ricotta cheese, egg white, garlic, turkey and onion in a medium-sized bowl.
3. preheat oven to 375 degrees and coat the bottom of baking dish with 1/2 cup of pasta sauce.
4. fill shells with mixture, about a tablespoon a shell, and place in coated baking dish. when all are filled and in dish, pour remaining pasta sauce over shells.
5. cover dish with oven-safe lid or aluminum foil and bake for 30 minutes, or until warm and bubbly.
nutritional information:
calories: 423, fat: 12g, carbs: 51g, protein: 34g, cholesterol: 50mg, fiber: 6g.
thank you for reading & happy baking!
amanda
ps: i'm still trying to find my groove and figure out what i want my blog to look like, especially in terms of ease of use and simple design, so i'm making some adjustments. let me know what you all think!