these homemade graham crackers were the perfect next step in my battle against perfection. i mentioned in my
quiche post
about how tempting it can be to only post professional-grade cakes & cookies, but to me that takes away from the heart of baking and i'm determined to show you all everything - the gorgeous, the yummy, and everything in between.
instead of using a cookie cutter i just free-handed the cutting process and i am kind of in love with how unique they each are. i may have to eventually cave and buy a scalloping tool to give the edges a little pizazz, but they are equally adorable cut with a sharp knife.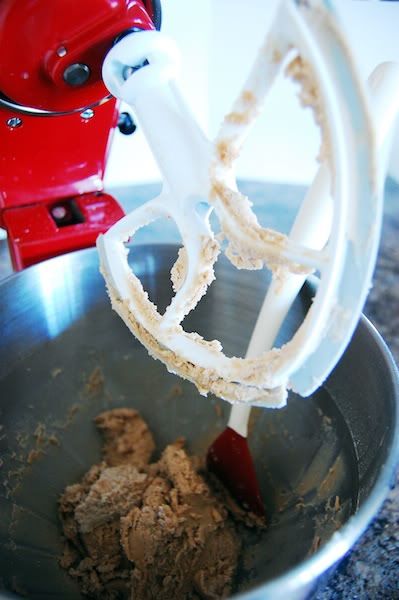 this dough came together quickly and with almost zero effort. i was careful not to over-mix, which would make the dough tough, and combined dry with wet until it was 90% mixed and then did the rest by hand.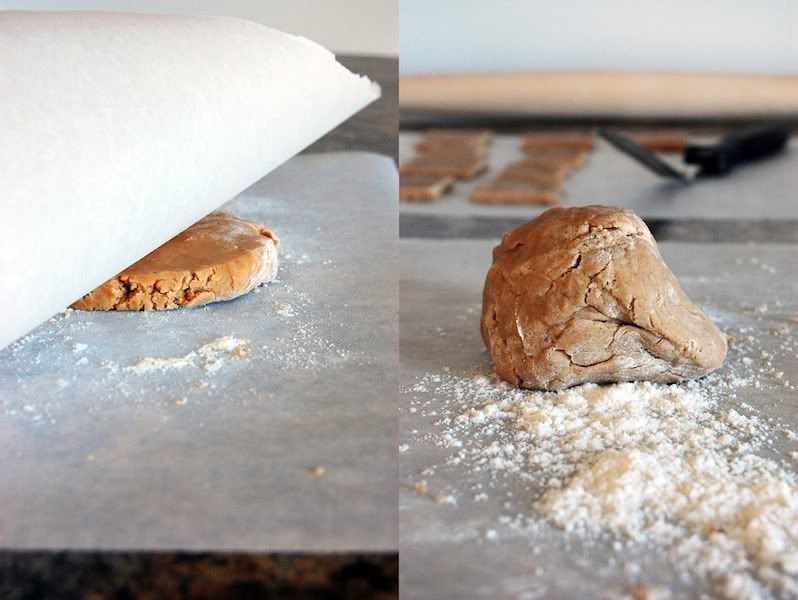 the heat of your hands will help smooth out the dough before you stick it between two pieces of floured parchment. sandwiching dough between parchment is something i do for every roll-out cookie i make, i wouldn't tackle the process without it!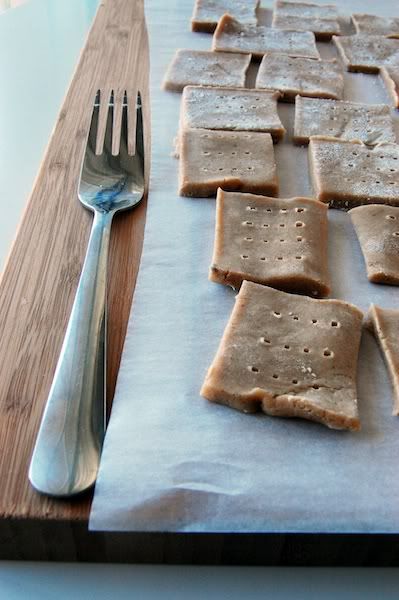 one of my favorite parts of this whole process was poking the traditional graham cracker holes in these suckers. the surprise was finding out that this step happens post-freezing. who knew!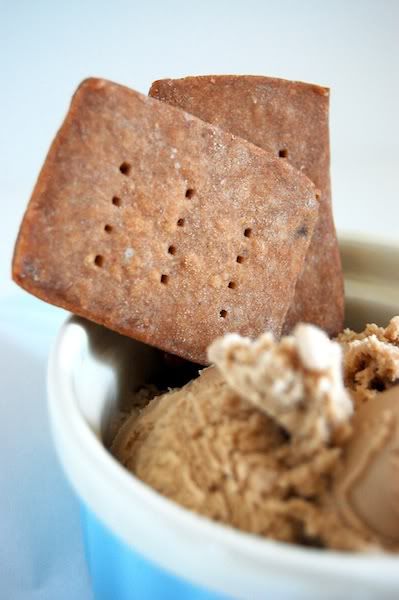 i ended up using these cookies as a make-shift spoon for my coffee ice cream a few nights ago. do i own spoons? yup. are they as delicious as cookies? nope. what i learned, but was too lazy and impatient to actually do, was that these would make an absolutely perfect cookie for ice cream sandwiches. summertime, here i come!
homemade graham crackers
yields approximately 30
3/4 cup all-purpose flour
3/4 cup cake flour
1/4 teaspoon salt
1/2 teaspoon baking soda
1/2 teaspoon cinnamon
1/4 teaspoon all spice
1/4 teaspoon nutmeg
1/2 cup butter
1/4 cup + 2 tablespoons dark brown sugar
1 tablespoon honey
1. preheat oven to 350 degrees. whisk flours, salt, baking soda, and spices in a medium bowl, set aside.
2. in the bowl of stand mixer, cream together butter, brown sugar, and honey. add flour mixture and beat until just combined.
3. using your hands, shape dough into a smooth-ish ball, and place between two sheets of floured parchment. roll out to about 1/8 inch thick. (note: mine are obviously thicker and i sort of like them like that, it's this cracker-shortbread-biscuit hybrid, but you can choose your own adventure with this one.)
4. cut out desired shapes and place on another sheet of parchment. chill in freezer until firm, about 20 minutes.
5. remove dough from freezer and pierce crackers using a fork. transfer to baking sheet lined with parchment and bake, rotating halfway through, until dark golden brown (8-9 minutes, depending on thickness). let cool on wire racks.
nutritional information*
calories: 63, fat: 2.9g, cholesterol: 8mg, sodium: 41mg, carbs: 8.3g, sugars: 3.27g, protein: 0.64g
*this information is totally dependent on how many you yield. if it helps, the total caloric amount for the entire batch is 1890 cals, which you then can divide by how many cookies you end up getting for a more accurate number.
thank you for reading & happy baking!
amanda