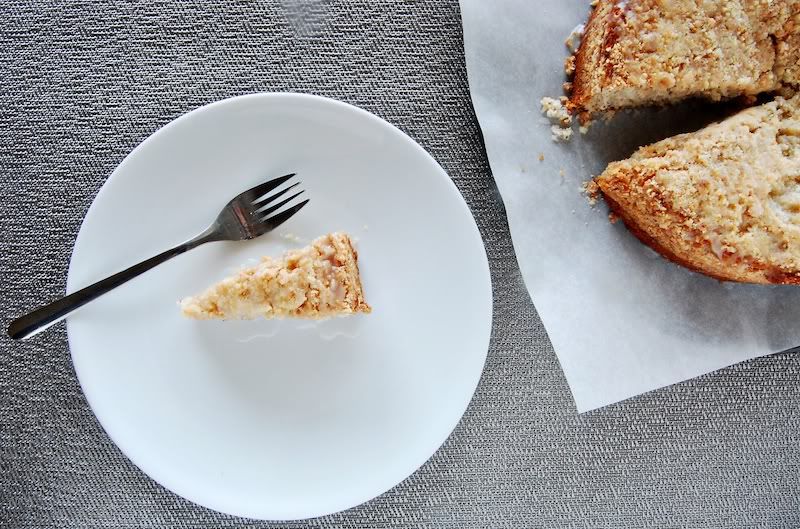 last week at work one of my coworkers snuck into my office and let me know that, no pressure, he wouldn't be upset if i whipped up some vegan goodies. well, with me it's ask and you shall receive, so i decided to figure out a coffee cake recipe that would be a crowd pleaser with vegans & non-vegans alike.
i'm generally a bargain hunter and rarely very brand loyal when it comes to staples like sugar or butter, but when it comes to vegan baking earth balance non-dairy margarine is really the best of the best. it creams and whips beautifully, which has been a problem with off-brands, and it's awesome for icings. the only other thing that i think is worth splurging on are extracts. i find that mccormick and generic brands leave an artificial aftertaste that is a little off-putting to me. moral of the story: be cheap when you need to be, but splurge on the good stuff when you can!
i used an 8" round for this little project but found that the pan was a little over-filled, so i would actually recommend a 9". if you have a springform grab that, it will definitely make removal much easier. also, don't forget to flour your pan!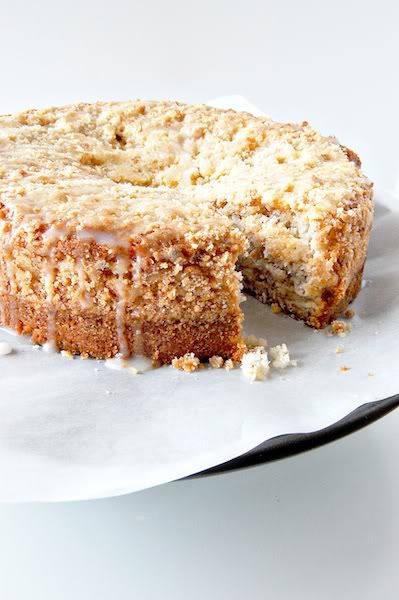 the delicate almond flavor in this cake is well-balanced by the hearty and nutty flax meal. it isn't overly sweet, which is perfect for a cake served in the morning hours, but the crumble and drizzle do give it a little crunch and sweetness that really helps bring it all together and make it treat-worthy.
vegan almond-flax coffee cake
yields 16 servings
ingredients
for the cake:
1/2 cup almond milk
1 tablespoon vinegar
3/4 cup vegan margarine
1 1/2 cups granulated sugar
1 1/2 teaspoons almond extract
3 tablespoons flax meal mixed with 6 tablespoons warm water
1/2 teaspoons salt
1 teaspoon baking powder
3/4 cup cake flour
1 1/4 cup all-purpose flour
for the crumble:
1/4 cup almond meal
1/4 cup granulated sugar
3 tablespoons all-purpose flour
1 tablespoon vegan margarine, melted
for the icing:
1/2 cup confectioner's sugar
1 teaspoon almond extract
1/2 - 1 tablespoon almond milk
1. combine almond milk and vinegar in a small bowl & let curdle. combine flax meal and water in another small bowl and let soak.
2. preheat oven to 350 degrees fahrenheit.
3. lightly grease and flour a 9" round or square pan.
4. in the bowl of a stand mixer, cream together margarine, sugar, and almond extract until light and fluffy. add flax meal paste and beat until smooth.
5. in a separate bowl whisk together salt, baking powder, and flours.
6. alternate adding flour mixture and vinegar mixture to mixer bowl until well combined. pour batter in to prepared pan and knock on counter several times to remove any bubbles.
7. melt margarine in microwave safe bowl and add remaining ingredients. cut & mix with fork until there are even pebble-sized crumbles throughout.
8. spread crumbles over cake batter and pat down lightly.
9. bake in preheated oven for 45-50 minutes or until knife inserted into center comes out clean. let cool completely.
10. once cake is cool, stir together all icing ingredients and drizzle over cake. let set and dry.
nutritional information
calories: 258, fat: 10.25g, sodium: 184 mg, carbs: 39.5g, fiber: 1g, sugars: 25, protein: 2.34g.
thanks for reading & happy baking!
amanda